Brace yourselves, EXO5 Ingress Anomaly is comming soon! Get ready for that big day with 25% discount from our Ingress-Shop!
When: November 4th 2017 – December 2nd 2017
November 4
December 2
Berlin, Germany (PRIMARY)
Belfast, Nothern Ireland, UK
Zagreb, Croatia
Osaka, Japan (PRIMARY)
Chennai, India
Cebu City, Philippines
Boulder, CO, USA (PRIMARY)
Houston, TX, USA
Panama City, Panama

Tallinn, Estonia (PRIMARY)
Madrid, Spain
Bruges, Belgium
Taipei, Taiwan (PRIMARY)
TBD, Brunei
Perth, Australia
San Francisco, CA, USA (PRIMARY)
Honolulu, HI, USA
Panama City, Panama
Five years ago at the Niantic Project, Devra Bogdanovich warned Oliver Lynton-Wolfe not to conduct his ill-fated Power Cube experiment. She warned him not to open Pandora's box. The rest, of course, is history. Operation Cassandra. 13MAGNUS. The discovery of the Glyphs. The activation of the Helios Beacons. The Darsana Point. The shattering of the Obsidian shield. The emergence of the Techthulhu. The path that began during that tense argument at the Niantic Project unfolded towards one inevitable day. A point in time when the walls that separate us and the Exogenous would begin to crumble. It seems that day has arrived. The day of — EXO5.
How to get 25% DISCOUNT?


Just make any order for 500 USD or more and use promo code:

EXO5EVENT


Be wise and buy ingress items with 25% DISCOUNT!!!
Also, we are open for greater discounts for wholesale buyers from event cities!
Faction leaders or POCs (only from primary or satellites cities) can get personal

50% DISCOUNT

to enhance their anomaly team!
Feel free to contact our support team

With the coming anomaly series #EXO5, Niantic has created a side event for those that can't participate in person (and also for medal collectors) called the #EXO5 Controller Event! From October 2nd 23:59 UTC to October 16 23:59 UTC. This event will reward the EXO5 Controller Medal for creating Control Fields during the event. There will be three tiers for this medal that can be unlocked! During the event, a new field will appear in your Agent stats indicating how many fields you've created during the event. If you're shooting for tier 3, that's ~143 control fields created a day. Get those walking shoes ready and those gas tanks filled!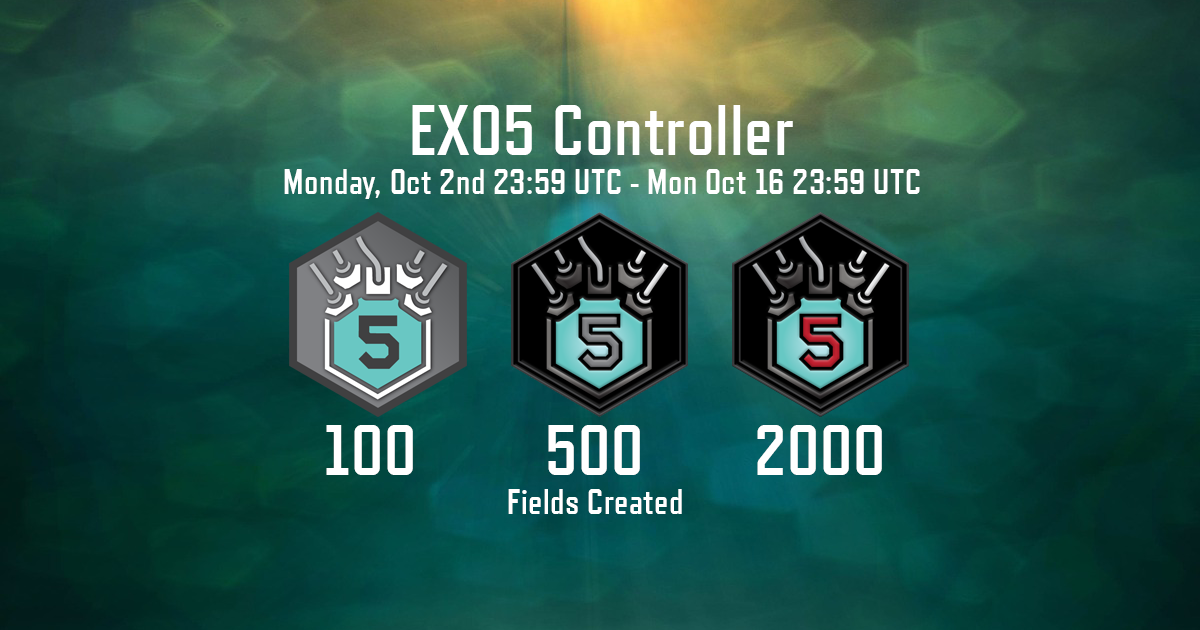 Be wise and buy items only from our shop :)
For any question you may have please feel free to contact our support team
Regards,
Ingress Shop World Team