Hello Ingress Agents. Our Team decided to deliver all orders now with Ingress Prime Transfer accounts only. We see that not much of you are using Scanner Redacted, so it will be a good decision. We will use old mule accounts (for Scanner Redacted) only for SFD (super fast delivery) packs without cooldown time. So if you will buy 2000 XMP bursters or Ingress Destro Pack then you will receive transfer account which can be used for both scanners (Redacted and Prime). All other order will be delivered with mules only for Ingress Prime Scanner.
From ingress gamers community we know that many of you have sometimes problems with login to Ingress Prime. Especially iOS 10 users have such problems. That is why we have decided to make this short manual for you with main login troubleshooting steps.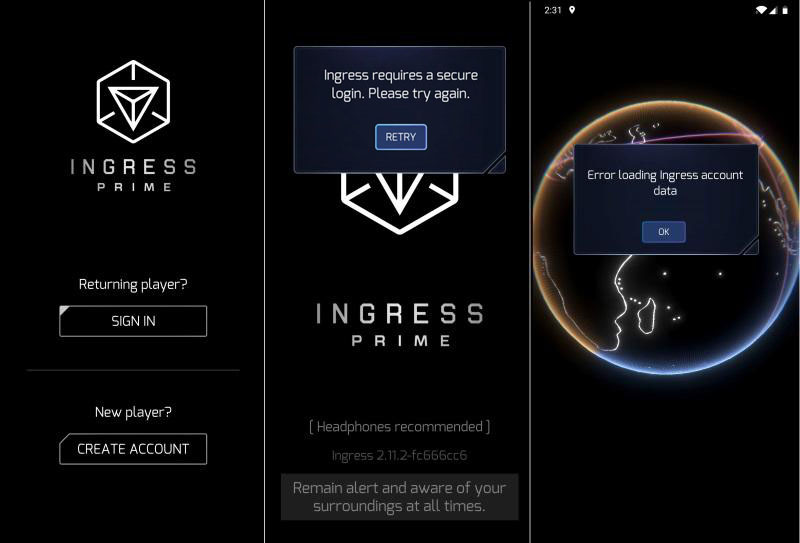 How to Fix Ingress Prime Login Issues
While there are a lot of small little bugs and issues in Prime that Niantic will eventually fix, login issues will continue to emerge. So far, we're seeing a lot of complaints that when agents open the game they see an error similar to our image below. This popup says, "error loading Ingress account data" or "Ingress requires a secure login. Please try againe". Sometimes when you try to log in on Prime, it shows the spinning circle indefinitely until you click "X" to close it out which then displays an error that says it couldn't load the Ingress account data. In latest version Ingress Prime, after choosing a Google Account, you can get an endless loading animation, this problem exists on different iOS & Android devices.
1) Ingress Prime Login Troubleshooting #1
As with a lot of different bugs in various apps and games, sometimes deleting the app and then re-installing the app can fix minor bugs. You can clear the app data, reboot your phone and/or reinstall the scanner. Your results may vary on effectiveness, but if you've already tried waiting and relaunching Ingress Prime several times, it may be worth your time to attempt this method.you can clear the app data, reboot your phone and/or reinstall the scanner.
2) Ingress Prime Login Troubleshooting #2
These login errors could be due to a bad internet connection, poor service, or simply not enough bars. Make sure you have a good WiFi connection or solid 4G LTE. Wait a few minutes and try again, or reboot your phone then try logging in again.
3) Ingress Prime Login Troubleshooting #3
Sign in to your MyGoogle.Account, then Select "Personal Information". After that you have to Change your name and surname to latin letters. Log out of the account and log in again, the problem with the eternal loading should be solved.
How to receive items from Transfer (mule) account?
3RD FACTION TEAM can deliver ingress items to you in two ways:
- We will send you a LOGIN, PASSWORD and RECOVERY credentials for a google account (ingress transfer account), it is level 3 ingress account with your items in its inventory! You will be able to log in this account and transfer items to your main account anywhere you want.
- If for some reason you can not log in to transfer account, we can just drop the items on your location. You have to send us your GPS coordinates, longitude and latitude. But using a transfer account for items delivery is the best choice. You will be given 48 hours to unload items from transfer account. If you need more time - just write us.
How to add second account to Ingress Prime (ANDROID)
- Launch Settings from your Home screen, the app drawer, or the Notification Shade.
- Swipe up in the Settings menu to scroll down.
- Tap Accounts.
- Tap Add Account.
- Tap Google.
- Choose existing account.
- Enter LOGIN and PASSWORD and tap NEXT.
- Tap Accept to agree to Terms of Service and Privacy Policy.
- Tap a billing information option.
- Tap Continue.
Now you can sign in to Ingress Prime using our account. Just go open Settings on your device, then go to Applications, choose there Ingress Prime app and Clear Data. Now when you will launch Ingress Prime App you will see option to login to our transfer accoun.
How to add second account to Ingress Prime (iPhone)
You can sign in to your Google Account on Safari, the browser that comes on your iOS device:
- Open Browser Safari and go to MyAccount.Google.
- On the top right, look for your MAIN profile image (tap to profile and select Add Account).
- Enter LOGIN and PASSWORD from our transfer account.
- Turn off Wifi and Mobile Network.
- Open Ingress App and wait when application will freeze and ask you to log in again.
- Enable network and select Sing in with Google.
- Select our account and start to unload your items.